I am not a fan of scary movies.
You see, my brain isn't spongy when it comes to remembering things like the periodic table or even, like, what I ate last Wednesday. But when it comes to frightening things, my trusty ol' noggin will soak all that freakiness right up and present it to me in vivid detail at fun times like 4am, or when I close my eyes while washing my face in the shower.
Unfortunately just reading the news lately has felt like a super scary movie, but it's one I can't stop watching. Not even looking at pictures of adorable baby animals makes it better. Well, I mean, not after my eyeballs move away from the animals, anyway.
Here you go. Maybe it'll work for you.
And it's not just what the "bad guys" of the world are up to that has me awake when I really should be snoozing. It's the reactions I've seen that make me toss and turn. I mean, bad guys are always around, and that's why the good guys are supposed to be there to help, right? RIGHT???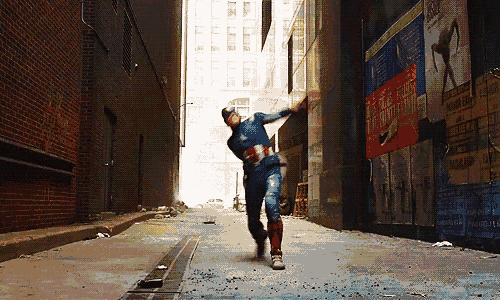 Here is a good guy, presumably helping with something. Like they're supposed to freakin' do.
Instead I see people all over the place making excuses to
not help
fellow humans who are so desperately in need. The funny thing is that I am 100% positive that if those same exact people were put in a horrific situation and needed help, they wouldn't say, "Hey world, I totally understand if you don't wanna help me and everyone I love, because I wouldn't help you, either." Actually, I have a sneaking suspicion that it's those very people who would say, "Me first! Me first! Get me and my family outta here, PRONTO!"
The whole thing has me feeling incredibly sad in a way that not even eating a whole family size pack of Oreos can fix. Here is the evidence that I did, in fact, try.
But I guess that's the thing, right? Most of us just don't understand that kind of scary desperation. For the most part, our daily problems include things like getting stuck in traffic, having slow internet, being so dang
busy,
or, ahem, being fresh out of Oreos. We enjoy our sweet little first world lives with absolutely no clue what it's like to fear for them on a daily (if not minute by minute) basis. We have no comprehension of what it must be like to be so terrified that we'd choose to leave everything we have and everything that is familiar to us, and put ourselves and our children through dreadfulness with an uncertain outcome because we have the tiniest sliver of hope that Destination: Anywhere Else In The World will be better.
Most of us are simply blissfully unaware.
Jeebus.
We're so lucky.
After all, it really is just luck, isn't it?
The fact that we happen to be Here and not There.
The fact that we happen to be the Haves and not the Have Nots.
The fact that
this time around
we happen to be the Door Openers (or as many would disappointingly have it, Closers) and not the Door Knockers.
If ever I need help, I hope the door I have to knock on looks this cool. And I hope to gawd that whoever is behind it will happily let me in.
And speaking of luck, it's that time of year again to thank our lucky stars for all our blessings whilst gathered with friends and family 'round giant platters of main course deliciousness and a whole slew of scrumptious sides. The list of things I am grateful for this year is loooong and includes things like finding the perfect drapey tunic at Old Navy that hides all the things I want hidden, and rediscovering that little Chinese massage place next to Californos in Westport. If you go there, ask for Chris. He's the best.
Topping the list is my beautiful, healthy son, and my sweet, loving husby. They are the center of my universe, and I would do ANYTHING and EVERYTHING in my power to make sure they are always safe and happy.
Because I am a normal human being.
Because everyone wants that for the people they love.
Because safety and happiness are obviously what every person on this whole earth deserves and should receive from whomever can provide it, and from wherever it may be.
Obviously.
Here you have Mr. Chubby Cheeks and Mr. Thunder Thighs (aka The Center of My Universe). I'll let you guess who is who.